in your crate
purple top turnips, bagged (see below)
have you tried "Liz's Chinese Cabbage Salad", with the ramen noodles?
head lettuce
*many of the veggies are hyperlinked, click on them for pictures, usage, storage, and/or recipes
purple top turnips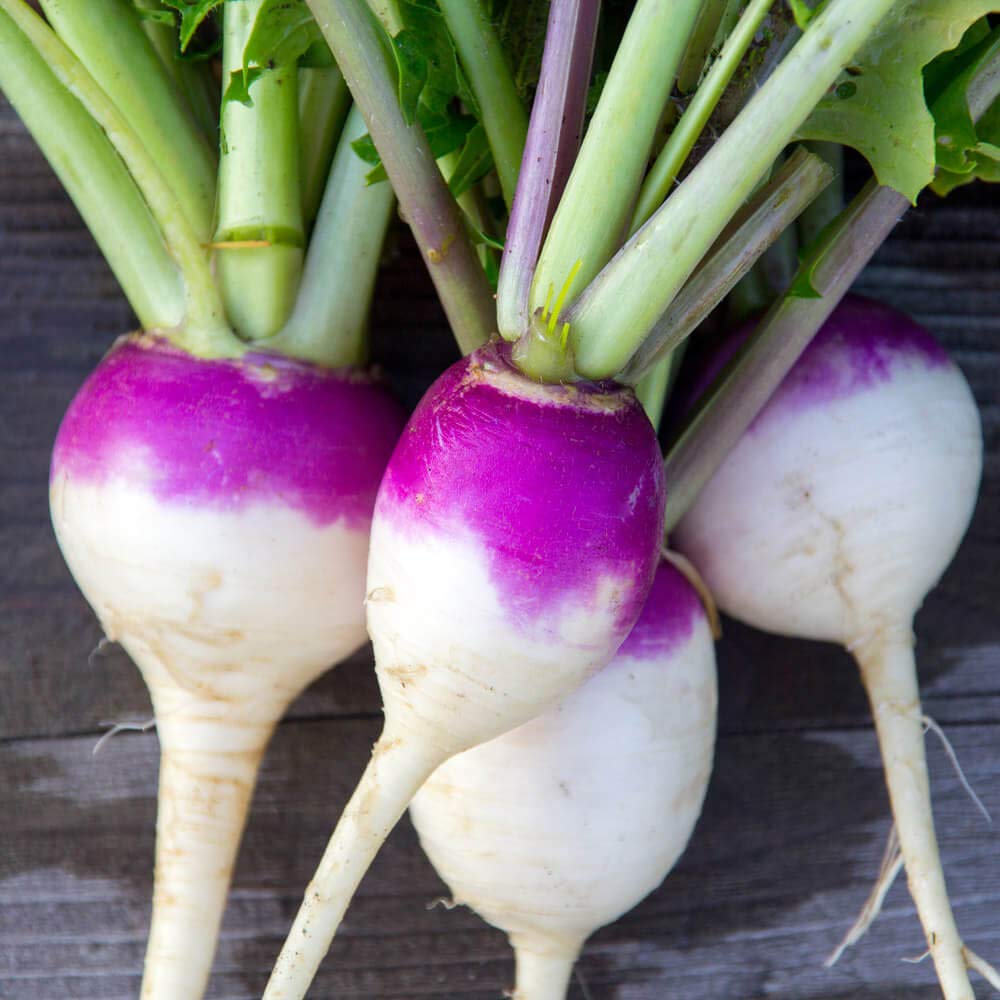 Roasting is a great way to make use of many of the veggies you'll receive. Often the flavors are drawn out when roasted, exposed, or changed in some way (sometimes made sweeter, other times mellowed). That carmelization process can make for great flavors! You can mix and match almost any quantity or combination of vegetables. This weeks roasters could include turnips, radishes, garlic scapes, kohlrabi, and broccoli raab.
recipe for: roasted turnips
The heat is on! It appears we've started into summer, which most everyone I've talked to seemed ready for.  And we continue to get rain. As we go down the lane to our back garden it is shaded and protected from the wind. Given that it is now July, I am surprised to see how muddy the lane remains.  Heavy rains have continued to pile one on top of another.
I can see the plants responding to the heat and moisture, and long day combo. It's a powerhouse. They are growing fast by the day! I hilled our potatoes and they just rocketed up again, reaching for the sky. The broccoli planted in rows of three has spanned across, creating a canopy between. The sunflowers are putting on inches of growth, as are the tomatoes. 
I see basil and dill, cilantro and parsley in our near harvest future. Oodles more broccoli. Kohlrabi, both purple and white. This week you will receive a single kohlrabi. It's purple. Kind of wacky looking. I recommend that you snip the "arms" off it, rinse it down, and grate it on a heavy cheese grater. What's especially fun about that, with the purple variety, is that you get this great purple color and this great broccoli-stem-snappy-cabbage-type flavor. Top it on your salads, of which you have plenty of fixings for. With this heat and this holiday week and weekend, eat it up and share with family and friends.
The broccoli raab is really tasty, and you can eat the stems and all. It's tender, not woody, and not stringy in the "stems". Some looks like a broccoli side shoot, a small or forming head of broccoli. Others look like a long, slender stem with a loose broccoli head opening on the end. Others have some yellow flowering! It's all edible – and all delicious!
We will likely have garlic scapes one, maybe two (could be three!) more weeks. They do keep approximately forever in your fridge, when kept dry and bagged and in your crisper drawer. Some of you are absolutely gaga about the scapes, if you need more or would like to stock up for pestos, just contact me. We can get you more. We'll wind up with those, have a garlic delivery break while the garlic bulbs mature and cure, and then a few weeks later we'll go into heads of garlic!
The steady and heavy rains have slowed me down from planting the last couple of weeks. One of my goals today is to try to get a bit more rototilled and a bit more direct seeded into the garden. We also have a couple more rounds of seeding to do in flats, for later transplanting out. The process continues and circles back around!
Wishing you each a wonderful holiday weekend – may you enjoy it with friends, family, and neighbors!